Pisces komstêra heftemîn a Zodiac e, û di Yekîneya Zodiacê de encamên serkeftina Yê Tê ji me re eşkere dike. Masî wêneyê du masiyên ku bi bendek dirêj ve bi hev ve girêdaye pêk tîne. Di horoskopa îroyîn de ger hûn di navbera 20ê sibat û 20ê adarê de ji dayik bûne hûn Masî ne. Di vê xwendina horoskopa stêrnasiya nûjen a zodiaka kevnar de, hûn şîreta horoskopê ji bo Pisces dişopînin da ku evîn, bextewarî, dewlemendî, tenduristî, û têgihîştina kesayetiya xwe bibînin.
Lê wateya wê ji bo kalan çi bû?
Çima Pisces ji demên kevnar ve du masiyên ku bi komek dirêj ve girêdayî ne wêne kirine?
Hişyar bibin! Bersiva vê yekê dê horoskopa we bi awayên neçaverêkirî veke – we bikeve rêwîtiyek cûda ya ku we niyet kir dema ku tenê nîşana horoskopa xwe kontrol kir…
In Virgo me dît ku Quran û Încîl diyar dike ku Xwedê bi xwe komstêlên zodiac wekî Nîşan çêkirine ku vedigerin destpêka mirovahiyê. Di vê stêrnasiya kevnar a stêrkan de her beş ji bo hemû mirovan bû. Ji ber vê yekê her çend hûn di wateya horoskopê ya nûjen de 'ne' Masî bin jî, çîroka kevnar a di stêrkên Pisces de hêjayî zanînê ye.
Komstêrka Pisces di Stêrkan de
Li vir stêrên ku Masî çêdikin hene. Ma hûn dikarin di vê wêneyê de tiştek dişibin du masiyên ku ji hêla komek dirêj ve li hev hatine girtin bibînin?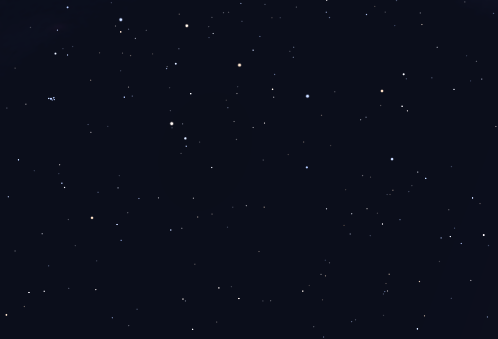 Tewra girêdana stêrkên di 'Pisces' de bi xêzan re masiyan eşkere nake. Stêrnasên destpêkê çawa du masî ji van stêrkan fikirîn?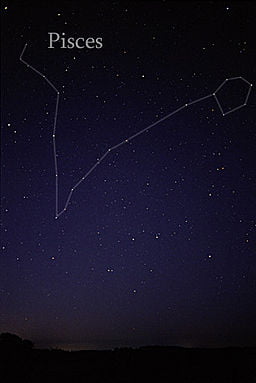 Lê ev nîşana bi qasî ku em di dîroka mirovahiyê de dizanin vedigere. Li vir zodiac li Perestgeha Dendera ya Misrê ye, ji 2000 salî zêdetir e, ku wêneyê du masiyên Masî bi rengê sor ve girêdayî ye. Her weha hûn dikarin di nexşeya li kêlekê de bibînin ku band wan bi hev ve girêdide.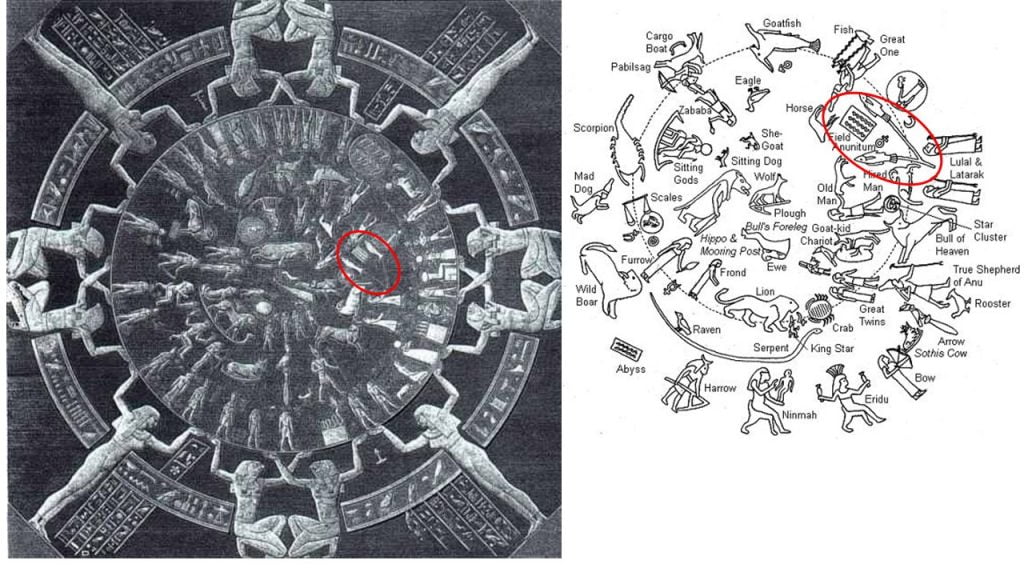 Li jêr wêneyek kevneşopî ya Pisces heye ku astrolojiyê bi qasî ku em dizanin bikar aniye.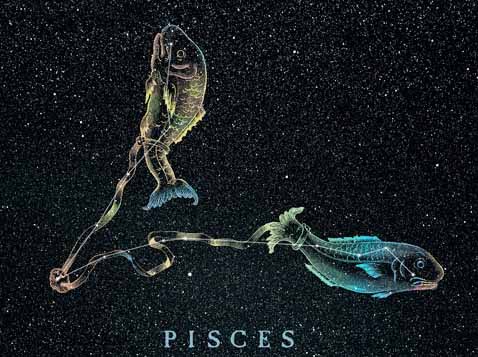 Wateya du masiyan çi ye?
Û band bi du dûvikên xwe ve girêda?
Girîngiya min û te çi ye?
Meaning Original of Pisces
Me dît Capricorn ku dûvê masî ji serê bizinê dimire jiyan distîne. Aquarius ava ku ji Masî re rijand nîşan da – Pisces Austrinus. Masî elaletên ku wê Ava Zindî bistînin temsîl dikirin. Ev yek di dema pêşbîniyê de bû Pêxember Îbrahîm a.s gava Xwedê soz da wî
Wê hemû eşîrên dinyayê bi te pîroz bibin.»

DESTPÊK 12: 3
Bi ziriyeta te, wê hemû miletên dinyayê bên pîrozkirin. Çimkî te bi gotina min kir.»

DESTPÊK 22: 18
Van elaletê bi riya xilas kirin Xizmetkarê tê li du koman hatiye dabeşkirin
dibêje:
«Tê bibî xulamê min
Ku ne tenê eşîrên Aqûb ji nû ve li cihê wan danî
Û Îsraîliyên saxmayî bi şûn ve anî,
Lê ezê te ji miletan re bikim ronahî
Ku rizgariya min bigihîje binê dinyayê!»

Îşaya 49: 6
Pêxember li vir behsa 'eşîrên Aqûb' û her wiha 'cihûyan' kiriye. Ev du masiyên Masî ne. Gava Îsa El Masîh PHUH gazî şagirtên xwe kir, wî ji wan re got
Îsa ji wan re got: «Li pey min werin! Ezê we bikim nêçîrvanên mirovan.»

Metta 4: 19
Yekemîn şagirtên Îsa el Masîh sembola masî bikar anîn da ku nîşan bidin ku ew ên wî ne. Li vir wêneyên ji katakombên kevnar hene.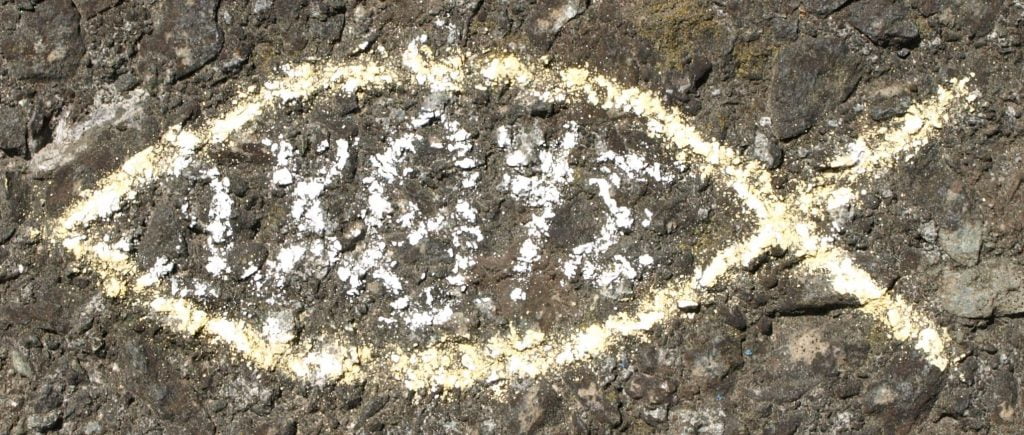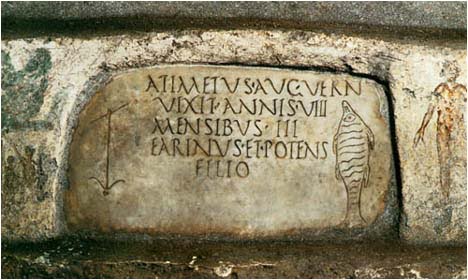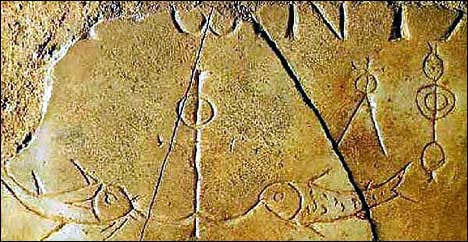 Herdu masiyên Masî, qebîleyên Yaqûb û yên miletên din ên li pey Îsa El Masîh dişopînin jiyana wekhev ji wan re hatiye dayîn. Band jî wan bi heman awayî di bin koletiyê de digire.
The Band – Derbasbûna Bondage
Her du masiyên Masî, her çend jiyanek nû ya giyanî tê dayîn, ji hêla komstêrkê ve bi hev ve girêdayî ne The Band. Band du masiyan dîl digire. Lê em dibînin kefa Aries Ramê ber bi komê ve tê. Ew behsa roja ku dê masî ji hêla Aries ve bêne azad kirin.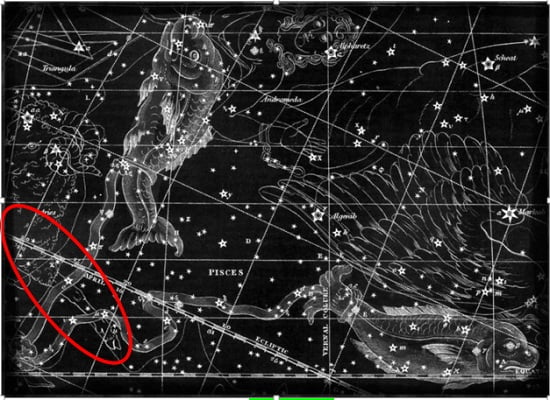 Ev serpêhatiya îro ya hemû peyrewên Îsa El Masîh e. Încîl koletiya me ya niha ya ji êş, rizîbûn û mirinê re vedibêje – lê bi hêviyê li hêviya Roja azadbûna ji vê koletiyê ye (ku di Masî de ji hêla komê ve tê temsîl kirin).
Êdî koletî û nalîn
Ez dihesibînim ku ev cefayê vî wextî, li ber wê rûmeta ku wê ji me re bê eşkerekirin, qet ne tiştek e. 19 Çimkî afirandin, bi bendewariyeke kelegerm li hêviya xuyabûna zarokên Xwedê disekine. 20 Ji ber ku afirandin ne bi daxwaza xwe, lê belê ji ber wî yê ku ew bindest kiriye, li ber pûçîtiyê hatiye bindestkirin. Lê belê hêvî heye 21 ku afirandin bi xwe jî, ji xulamtiya rizîbûnê azad bibe û bigihîje azadiya zarokên Xwedê ya bi rûmet. 22 Çimkî em dizanin ku tevahiya afirandinê heta niha bi hev re dinale û wek êşa zarokanînê êşê dikişîne. 23 Û ne bi tenê afirandin, lê em bi xwe jî, em ên ku me Ruh wek para pêşî standiye, ji kûr ve dinalin û li benda kurîtiyê û azadbûna bedena xwe ne. 24 Çimkî em bi hêviyê xilas bûn. Lê hêviya ku tê dîtin, ne hêvî ye. Ma tiştê ku mirov dibîne çawa hêvî dike? 25 Lê eger em, tiştê ku em nabînin hêvî dikin, em bi sebir li bendê dimînin.

Romayî 8: 18-25
Rizgarî tê…
Em li benda rizgariya laşê xwe ji mirinê ne. Wekî ku ew bêtir diyar dike
50 Birano, ez vê dibêjim: Xwîn û goşt nikarin Padîşahiya Xwedê mîras bistînin. Ne jî rizîbûn dikare nerizîbûnê mîras bistîne.
51 Va ye, ez ji we re sirekê dibêjim: Em hemû namirin, lê di lêxistina boriya dawî de emê hemû di kêlîkekê de, di girtin û vekirina çavan de, bên guhertin. 52 Çimkî borî wê bê lêxistin, mirî wê bi nerizîbûnîtî bên rakirin û emê bên guhertin. 53 Çimkî divê evê ku dirize nerizîbûnê û evê ku dimire nemirinê li xwe bike. 54 Îcar gava ku evê dirize nerizîbûnê û evê ku dimire nemirinê li xwe bike, ev peyva nivîsandî hingê wê bê cih: «Mirin di serketinê de hat daqurtandin. 55 Hey mirinê, kanê serketina te li ku derê ma? Hey mirinê, kanê derziya te li ku derê ma?» 56 Derziya mirinê guneh e; hêza guneh Şerîet e. 57 Lê şikir ji Xwedê re yê ku bi destê Xudanê me Îsa Mesîh serketinê dide me.

1 Korîntî 15: 50-57
Koma li dora masiyên Pisces rewşa me ya îroyîn diweşîne. Lê em bi hêviyê li bendê ne hatina Aries ku me azad bike. Ev azadiya ji koletiyê heta mirinê pêşkêşî hemûyan tê kirin. Di zodiacê ya orjînal de, Pisces biryarên we yên rojane ber bi bextewarî, hezkirin û tenduristiya çêtir ve, li ser bingeha roja jidayikbûna we rê neda. Nîşana wê diyar kir ku ne tenê serketina Îsa El Masîh wê bide me ava ku jiyanê, di heman demê de ew ê rojekê me ji bindestiya rizîbûn, tengasî û mirina ku niha me dîl digire azad bike.
Horoscope Masî di Nivîsarên Pîroz de
Ji ber ku Horoscope ji Yewnanî 'Horo' (saet) tê û nivîsarên Pêxemberî ji bo me demjimêrên girîng destnîşan dikin, em ji wan re 'saet'ê ya Masî digirin. Masiyên di avê de zindî ne, lê dîsa jî bi bendan ve girêdayî Masîkan nîşan didin horo xwendinî. Jiyana rast lê li benda azadiya tevahî ye.
Ewê we ji kinîştan bavêjin derve. Erê wextekî wisa tê, her kesê ku we bikuje wê guman bike ku xizmetê ji Xwedê re dike. 3Wê van bikin, çimkî wan ne Bav nas kir û ne jî ez. 4Lê belê min ev tişt ji we re gotin, da ku çaxê wextê wan bê, hûn bînin bîra xwe ku min ev ji we re gotine.

YÛHENNA 16: 2-4
Çaxê we bibin kinîştan, ber serek û hukumdaran, xeman nexwin ku hûnê çawa xwe biparêzin an çi bêjin. 12 Çimkî Ruhê Pîroz wê di wê demê de hînî we bike, ka divê hûn çi bêjin.»

Lûqa 12: 11-12
Em di saeta Aquarius de û hem jî di demjimêra Masî de dijîn. Aquarius avê (Ruhê Xwedê) anîn da ku jiyanê bide masiyan. Lê em tenê di nîvê Çîroka Zodiac û dawîn de ne Sagittarius serkeftin hîn di pêşerojê de ye. Niha em bi tengasî, zehmetî, çewisandin û mirina fizîkî re rû bi rû ne vê saetê, çawa ku Îsa el Masîh a.s. Bendên ku masî digirin rast in. Lê tevî ku em di destê koman de ne jî jiyana me heye. Ruhê Pîroz rûdinê, hîn dike û rêberiya me dike – tevî mirinê. Bi xêr hatî saeta Pisces.
Xwendina Horoskopa Weya Pesî ji Zendava Kevin
Ez û hûn dikarin îro xwendina horoskopa Pisces bi ya jêrîn bicîh bînin.
Horoskopa Pisces diyar dike ku hûn ji bo ku hûn bikevin Padîşahiya divê hûn di gelek zehmetiyan re derbas bibin. Di rastiyê de hin taybetmendiyên hevpar ên rêwîtiya we ya berbi wê Padîşahiyê tengahî, dijwarî, tengahî û hetta mirin in. Nehêlin ku ev we bişewitîne. Bi rastî ew di berjewendiya we de ye ji ber ku ew dikare sê taybetmendiyan di we de pêş bixe: bawerî, hêvî û hezkirin. Komên Pisces dikarin vê yekê di we de bikin – heke hûn dilê xwe winda nekin. Her çend ji derve de hûn winda bibin jî, lê di hundir de hûn roj bi roj nû dibin. Ev ji ber ku di we de fêkiyên pêşîn ên Ruh hene. Ji ber vê yekê her çend hûn di hundurê xwe de nalîn gava ku hûn bi kelecan li benda rizgariya laşê xwe ne, fam bikin ku ev pirsgirêkên rastîn ji bo qenciya we dixebitin ger ku we bi Padîşah û Padîşahiya Wî re hevaheng bikin.
Xwe bi vê Rastiyê bidomînin: Di rehma xwe ya mezin de Padîşah we ji nû ve jidayik kiriye û bi vejîna Isa al Masih ji nav miriyan ve kiriye hêviyek zindî, û di nav mîrasek ku çu carî têk naçe, xira dibe û namîne. Ev mîras ji bo we, ku bi baweriyê, heta hatina xilasiya ku amade ye ku di dema dawî de diyar bibe, bi hêza Xwedê ve girêdayî ye, li ezmanan tê parastin. Bi van hemûyan hûn pir şa dibin, lê niha ji bo demeke kurt dibe ku hûn di her cûre ceribandinan de xemgîn bibin. Ev hatine da ku rastbûna baweriya we ya îsbatkirî – ji zêr, ku bi êgir safî dibe jî – bi qîmettir e – dema ku Padîşah eşkere bibe, bibe sedema pesn, rûmet û rûmetê.
Bi Çîroka Zodiacê ya Kevin ve di Pisces de kûrtir bibin
Destpêka Çîroka Zodiacê ya Kevnar bi dest pê dike Virgo. Ji bo berdewamkirina Çîroka Zodiacê ya Kevin binêrin Meşandin.
Nivîsarên din ên ku bi Pisces re têkildar in ev in: